Up coming Mental Health First Aid Training Courses in Doncaster
| | | | |
| --- | --- | --- | --- |
| Course | Dates | Costs | Location |
| Mental Health First Aid level 3 (2 days) | 16th,17th January 2024 | £225 | Doncaster |
| Mental Health First Aid level 2 (1 day) | 16th January 2024 | £135 | Doncaster |
| Mental Health First Aid level 3 (2 days) | 8th, 9th February 2024 | £225 | Doncaster |
| Mental Health First Aid level 2 (1 day) | 8th February 2024 | £135 | Doncaster |
| Mental Health First Aid level 3 (2 days) | 21st, 22nd March 2024 | £225 | Doncaster |
| Mental Health First Aid level 2 (1 day) | 21st March 2024 | £135 | Doncaster |
This Mental Health First Aid course goes into detail on a wide range of mental health conditions that can effect people within the work place. It is aimed at those work places wanting to generate mental health awareness, reduce stigma and support those who made need support at key times in their lives.
We have worked with companies across the country to develop an understanding of how mental health effects more people than we think.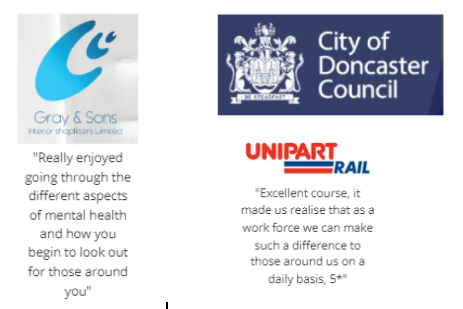 The course will last for 1 or 2 days and address the following areas:
What is First Aid for Mental Health?
Identifying mental health conditions such as
Self-harm
Post-traumatic stress disorder
Suicide
Stress
Eating disorders
Drugs and alcohol
Depression
Anxiety
Psychosis
Providing advice and starting a conversation
First Aid for Mental Health in the workplace
A maximum of 16 candidates are allowed on the course and must be a minimum of 16 years of age. A certificate will be received on completion.
For further information or to book a place please contact:
Tel: 07708519464
or email: info@icansavealife.co.uk